So over the course of the month, I got 50,128 words in on Adrift. Also, 22,508 words worth of NaNoWriMo Essays in on the blog, for 72,636 total (and actually a bit more, cuz I kept writing today, but whatever).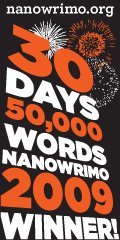 There are sort of two stories going on in Adrift. One is the scifi thing, and the other is the slightly more episodic series of fairytales that Finn told his daughter back when she was little and Everything Was Good.
These are the last two things I wrote in those stories, before I hit the NaNoWriMo End.
Adrift
"Thank you," he murmured, then stepped back and clapped me on my shoulder. "Go."

I went.
And the Princess stories:
That was how the princess learned about the Spring Tree, and started on her greatest adventure yet.
I'm not done, but those a pretty good 'end of section one' lines.
Roughly speaking, I'm about halfway in, so I'll keep writing in December and January (at a slightly lower daily wordcount), and I'm going to keep recording and posting podcasts until I'm done with that also, but November has been a good start, and I'm enjoying the hell out of the way it's all unpacking from the spare little frame I built on Twitter.
I need to thank my wife Kate. She's heard more excerpts from this book than anyone, but she's heard them all in the wrong order and didn't complain (much); she kept my distractions to a minimum, and she drove about nine hours of our 12 hour drive yesterday, just so that I could write and finish a day early.
And she's awesome, just in general.
I also want to thank Chuck, Jennifer, Greg, Meera, Nicole, the Colorado MLs, ***Dave, Nick, Laura, Paige, Tina, Stephanie, Lise, De, Linley, Evf, Linda, Yi Shun, Ptocheia, Rebecca, Cynthia, Michelle, Ann Marie, Maggie, Frankie, Kaelin (Hyetal), Megan, Elysabeth, Danielle, Robert M, Eve, Velvet, Trev, Mur, Brian, Cat, Jamie, and the absolutely insane number of people who retweeted links to these posts around Twitter and the rest of the Internetverse. I started these posts for me, but I finished them because of you guys, and I'm really kind of proud of them.
You make me think about writing, and think better about writing. Thank you.
Tim White's helped me so much with the podcast stuff. He gets a line all to himself.
And the story? This crazy story about a father trying to find and help his daughter?
The story is for Kaylee, which should surprise no one at all.