This is one of the first and finest pictures I have of me and my daughter. Forgive me the luxury of its size.
It was taken in mid-January of 2006. Kaylee is about three days shy of five months old — about a month older than Sean is right now.
I can't tell you a lot about the picture. I know some friends were in town to visit and were in the background, chatting away. I know Kate (whom I had just met) took the picture. I have no idea why I was giving my little girl a bath at 10 pm, although I suppose I can make an educated guess.
What I can tell you is that, when I think of pictures of me Kaylee, it is that picture and this one, taken a few months later, that I think of.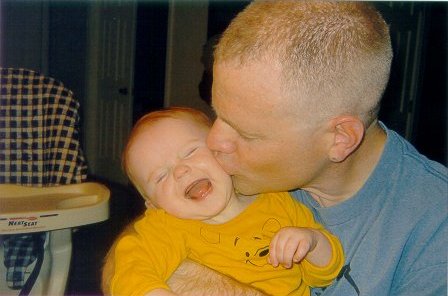 It might be safe to say that when I think of Kaylee, these things are what I think of.
Here's the most recent picture I have of my baby girl.
Kaylee graduates from kindergarten today. My spies tell me that her class will be performing a song called "First Grade", sung to the tune of "New York, New York."
I'm leaving, today…
I've learned some lessons in the last five and a half years, most of which have been delivered painfully and at regrettable (if ultimately fair) personal cost, and this picture reminds me of the most important.
Be there.
It will never matter, ultimately, how many promotions you got, or how many pages your wrote, or (certainly) how many levels you gained — the final accounting of your life only tallies one thing: the memories of you held by your loved ones.
I am (quite literally) here to tell you that the time you have in which to create those memories is so infinitesimally, astonishingly, vanishingly small, every chance flickering away like a bad film projection in the space between breaths.
Forgive me for the cliche, my loved ones, but they grow up so fast.
I'm so very proud of my little girl for how far she's come, and I can't wait to see where she's going to go.
But goddammit, I wish she'd hold still for a little while.
Just a little.
Because frankly, this isn't fair.