I create best in public. For good or bad, that's how I roll; it's never worked as well for me to write a whole story and present it for the first time as a finished thing. I loose my sense of urgency, the need to produce regularly or face public failure and, yes, the chance to enjoy the feedback from the people who liked it (or didn't). That's how I work, that's what I need.
Kate and I are a lot alike in many ways, and while I try not to assign my own interpretation to her actions (I was warned early and often not to), I'd suspect that she's wired somewhat the same way when it comes to creative efforts.
So, I'd like to point out a project she just started: one picture, posted, every day, for a year. To be sure, she's actually taking a lot more pictures than one per day, but the end result is the best of the daily bunch, and frankly I think they're pretty good. I think you should check it out; I certainly think a couple comments would be welcomed.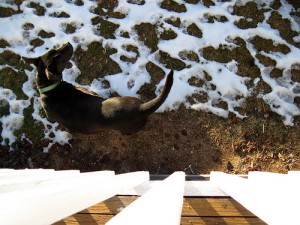 In the meantime, I've got a project to work on, and I need to get to it. Cheers.