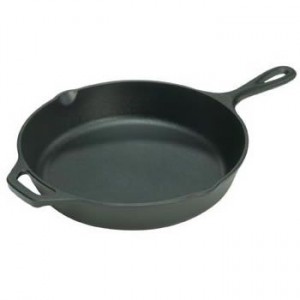 So, a few years ago, a guy I know posted about some pretty wonderful sounding food you could put together in a few minutes with fearless use of a cast-iron skillet. Sounded great, except I didn't have one.
Then I got one – I think as part of our wedding registry, which it was on because of all that stuff I'd read – and… it sat in a cupboard, because it had a whole series of instructions on how to 'season the pan' and how you couldn't actually wash the thing with soap, and you had to RE-season it after every use and…
Well, it just sounded hard.
Yes, I'm THAT lazy. Turns out that seasoning a cast-iron skillet consists of wiping it down with some vegetable oil and putting it away. Big deal.
Anyway, I decided to cowboy up this weekend and get that skillet going. Here's what I did.
Preheat the oven to 425.
Get some thick, boneless meat. I used whole chicken breasts, but pork chops or steak is cool. Dry them off with paper towels. Season them heavily on both sides. Salt and pepper is fine, but I look for ANY EXCUSE AT ALL to put our Golden Toad to use, so that's what I did. (I used the steak rub. There's a ton of options, and you can buy em all at Whole Paycheck.)
Heat up the skillet on the stove top until water drops sizzle and disappear in just a second or two. You want it f'in hot, is what I'm saying. Takes about five minutes with the burner on halfway – maybe less.
Turn the fan in your hood on. Maybe open a window.
Put the meat in, dry. It'll stick. By "stick" I mean it will spot-weld to the skillet. If you're doing several chunks of meat, plan out your arrangement first, because you won't be able to move the meat once it's down. (I ended up cutting the fourth breast in half to fit it in the available remaining spaces.)
Let the meat sit for five minutes. Don't mess with the heat; don't mess with the meat. Don't do anything with it at all. If you're me, the only way to manage this is to physically leave the room.
Come back five whole minutes later and turn the meat over. It'll turn easily, and the side you just flipped up will be gorgeous. Walk away again. Update twitter. Pour some wine. Make out. Whatever.
After another five minutes, flip the meat. Damn it's pretty.
Pick up the whole skillet (USE AN OVEN MITT — cast iron skillets are all metal and don't give a damn about your hand) and put it as is into the preheated oven. (This part is why you don't want to use more 'modern' skillets with insulated handles.)
Leave it in the oven for four or five minutes for steak, seven or eight minutes for chicken or pork.
USE OVEN MITTS to take the skillet out of the oven. The skillet, which was hot before, is now HOT. Transfer the meat to your serving plate and just let it sit while you do this last bit.
USE OVEN MITTS. Put the skillet back on the stovetop on pretty much the same heat as it was on before. Pour some wine into the skillet until the bottom's covered pretty well. It's going to boil and bubble and get all uppity. Get a metal spatula and scrape up everything on the bottom of the skillet, so that it all mixes in with the wine (this step is why you DO NOT WANT to use a modern 'no stick' pan – you'll ruin the pan and probably poison yourself). Pour in a little water (eh) or apple cider (mmm) or appropriate broth (safe bet) with the wine. Not much – half of what you put in for the wine. Toss in a pinch of flour to thicken it up a bit. You won't need much, cuz things are popping and boiling and getting thick and yummy on their own. When it's somewhere between 'water' and 'syrup', pick the whole pan up and pour the sauce over the meat.
Takes… twenty? Maybe twenty-five minutes. Just about the best damn chicken I've ever had. Ohmigodsogood.
So… now I want to cook everything in the cast iron skillet. Everything. Anyone have good food ideas for this wondrous device? Spill.