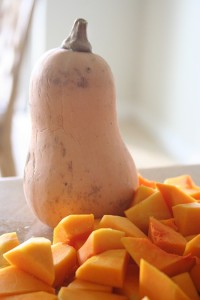 So there's this thing Floy-Jean makes around the holidays. It's generally called "Grandma's Special Squash", because
No one really makes it quite as good as she does.
It's special. (And be 'special' I mean 'actually a dessert, masquerading as a hot dish'.)
Here's how it goes.
1. Start with 3 lbs butternut squash, peeled, seeded. and cubed. (Not everyone skins them. Grandma does. Grandma's version is better. Draw your own conclusions.)
2. Cook the squash in water until the cubes are tender enough to mash.
3. Drain the squash pieces, drop em in mixing bowl, and beat em until they're smooth. Smooooth. No. Smoother.
4. Add milk, butter, eggs, and vanilla; mix well.
3/4 c milk
6 T butter, melted (yeah, that's most of a stick of butter. deal.)
3 eggs, already beaten
1/2 t vanilla
5. Combine these dry ingredients, add them to squash, and mix well.
1/8 t nutmeg
3/4 c sugar
3 T flour
1/2 t cinnamon
1/8 t cloves
6. Transfer everything in the mixing bowl to a (greased) 2-qt baking dish. Cover it and bake at 350 for 45 minutes.
7. While the squash-ness is baking, make the Topping. THE TOPPING IS NOT OPTIONAL.
In a small bowl, combine these topping ingredients until crumbly.
1/2 c vanilla wafer crumbs (about 15 wafers)
1/4 c packed brown sugar
2 T butter, melted (yeah, that's the rest of that stick of butter you started in on before)
8. When the squash is done baking, pull it out, and sprinkle the Topping over it.
9. Stick the whole thing back in the oven again, uncovered, for about 12 to 15 minutes.
10. Mouthgasm.